Gift Ideas
Top 10 Awesome And Unique Gifts For Cat Moms
by Van Nguyen on Dec 09, 2021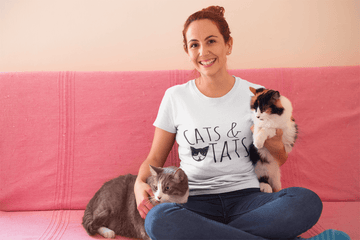 Meow! Show me your kitties! Cats are one of the cutest animals in the world that most of us have to pet whenever we see cats. Being a cat mom is a cool and great thing! If you are a cat mom and wanna show your big love for cats, there is no better way than a cat shirt. However, we know that finding a suitable cat shirt is not so easy because of the variety of designs and products in the market. Pawover will help you with this collection of top 10 awesome and unique gifts for cat moms.
Why Should You Choose A Cat Shirt As A Gift For Cat Moms?
There are several reasons why you can not miss the awesome and unique cat shirts. They are so purr-fect for all cat moms that will win their hearts at the first sight.
First of all, cat shirts have so many kinds of designs in various styles that will suit everyone. Whether you are a cat lady, a cat mom, or even just an individual who wanna express love for cats. You can easily choose your favorite design, color and images that speak out your personality and interest.
Secondly, cat shirts do not only bring you unique and stand-out outfits in the crowd, they are also great gifts for all cat lovers, including cat moms. Grab these meaningful or beautiful cat shirts to give to any cat moms, make a big surprise for them and strengthen your relationship. 
Moreover, cat shirts are a combination of beauty, impression and uniqueness. They are lightweight, comfortable and perfect for any occasion. Just imagine how much fun wearing a cat shirt would be and how many conversations it would spark.
Explore Top 10 Awesome And Unique Cat Shirts - Pawfect Gifts For Cat Moms
1. Funny Cat Mom Shirt Mothers Day Gift T-Shirt Cat Shirt
This Funny Cat Mom Shirt is one of the best designs you can find out there! A beautiful cat with a red bow and glasses with big charming eyes definitely catches your sight at the first glance. Cat moms will look so sweet and cool in it. This shirt is really an ideal way to brighten up your day and bring you happiness.
2. Tuxedo Cat Mom Cute T-Shirt Cat Mom Shirt Cat Shirt
Seeking simple but special gifts for cat moms? Believe me! Nothing will be better than a cute Tuxedo Cat Mom Shirt. A clear and smart way to spread out your cat love. In addition, this shirt will bring you a unique and impressive look to become stand-out everywhere.
3. Retro Vintage Best Cat Mom Ever Fist Bump Cat Mom Shirt Cat Shirt
Who is the best cat mom? It's totally you with the Best Cat Mom Ever Shirt. If you have a great sense of humor and big love for cats, this shirt is for you. This cat mom shirt is designed to let everyone know that she's a certified fur-lover.
4. Easily Distracted by Cats and Books Shirt Cat Shirt
Imagine you stay with your lovely cat and favorite book on a rainy day? I suppose that is the best feeling for a cat mom or cat dad. That is the reason why this Cats and Books Shirt is a must-have item for cat lovers. Hurry get this shirt as gifts for cat moms to light up their day and show your care for someone you love.
5. Catnip Made Me Do It Funny Cat Tee T-Shirt Cat Shirt
If you are looking for the most unique and funny gift ideas for cat moms, we suggest you should check out this design. This Catnip Made Me Do It Funny Cat Tee is suitable to wear if your cats get up to no good with catnip. A hilarious and interesting design will absolutely make people laugh whenever you wear it!
6. Amazing Meh Cat Gift for Cat Lovers - Cat Shirt
Cats are lovely animals, but not all the time. They can suddenly feel so "meh" in a funny and cool way. With this funny Amazing Meh cat shirt, you can easily show it off to your friends, express your sense of humor and love for cats as well. Absolutely a purr-fect gift for cat mom.
7. Vintage Scary Halloween Black Cat Costume Cat Shirt
Another choice for you to make a big surprise for all cat moms with this unique design of Scary Halloween Black Cat Shirt. Halloween is the best time to celebrate with your friends and wear some scary and impressive designs like this shirt. Get one for you and a cat mom to enjoy the feeling of joy and give them the biggest surprise.
8. Aristocats Marie Bonjour T-Shirt Cat Shirt
The definition of cuteness is this sweet design of Aristocats Marie Bonjour T-Shirt. This shirt will be the best gift for anyone who is really into cats and cartoons. Such an adorable shirt for any cat mom! 
9. Cat You Are My Sunshine Shirt Cat T Shirt Cat Shirt
Cats are one of our close companions that always support us through ups and downs. It is time to treasure every moment with your best friend with this lovely Cat You Are My Sunshine Shirt. It is the best gift idea for all cat moms to let the world know they love their cat so much. Look how beautiful this is!
10. Cats For Everybody Ugly Christmas Cat Shirt
Last but not least, nothing is better than a unique Christmas gift for cat mom! Enjoy the bustling atmosphere of the holiday season and give your love to your family, friends with a special and meaningful gift. This Cats For Everybody shirt is so perfect for all cat lovers, an ideal way to strengthen your relationship.
Get The Best Gifts For Cat Moms Available Now!
Break the cycle of boring cat shirts with our collection of top 10 awesome and unique gifts for cat moms. There's no better way to show your love and care for your loved one than by a special gift that matches their interest. These shirts are beautiful, unique, comfortable and more than a thousand words!
We hope that the list above will help you to decide which one will become your choice as wonderful gifts for cat moms.