Gift Ideas
10 Best Dog Dad Gifts To Surprise A Dog Father
by Van Nguyen on Dec 10, 2021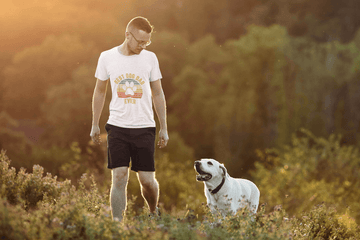 Are you seeking some amazing present suggestions for the dog dad in your life? There are a variety of fantastic gift ideas for your dog-obsessed loved one. We believe that there's nothing better than a fabulous and unique dog dad shirt. These shirts will make him feel extra appreciated. Moreover, it is an ideal way to show their love and care for lovely dogs. 
Understanding how difficult it may be to find the most unique and memorable present for dog lovers, we've put together a list of the 10 best dog dad gifts that will bring any dog father a big surprise.
Keep reading to discover our collection of the most amazing and inspired gifts for dog lovers you can get!
10 Best Dog Dad Gifts - Pawfect Presents For Dog Lovers
If you are a dog dad, there are so many ways to show your love for dogs. Which is better than wearing a dog dad shirt and letting the world know how much you love your dogs? These shirts will absolutely pawfect presents for all dog lovers.
1. Vintage Dog Dad Shirt Retro Dog Shirts Dog Dad Shirt
Nothing will beat this unique shirt that makes a dad feel special. You can not miss this vintage design with the combination of beauty and pride of being a dog dad. Get this Vintage Dog Dad Shirt to show your big love for dogs, give any dog father a big surprise. A perfect way to strengthen your relationship with someone you love.
2. Corgi Santa Christmas Tree Lights Xmas Corgmas Dog Dad Shirt
Are you a corgi father? Do you wanna pick a special gift for a corgi dad on Christmas? Nothing will be better than this shirt. Christmas is the best time to festive and get fun with your friends and family. This Corgmas Dog Dad Shirt is one of the cutest and colorful dog dad gifts for you and anyone who loves corgi. Look how lovely it is!
3. Life Goal Pet All The Dogs Dog Lover Tshirt Dog Dad Shirt
Who will be the happiest person in the world? The answer must be the one who can pet all the dogs. If you love dogs so much that all you want is to pet every dog, hurry to grab this shirt and show your passion. These Life Goal Pet All The Dogs Dog Lover Tshirt will be the best dog dad gifts ever!
4. Colorful Pit-bull Terrier Dog Lover Funny Dog Dad Shirt
You are finding the best gift for a pitbull father? Colorful Pit-bull Terrier Dog Lover shirt is one of your top choices to show big love for dogs. Moreover, this design is full of colors that will definietly catch your attention at the first glance. This shirt could be a great conversation starter when you meet your friends and family.
5. Cool Dog Father Shirt The Dog Father T-Shirt Dog Dad Shirt
Simple is the best! You can find everything in this shirt with a simple but cool and unique design of lovely paws and the logo "Dog father". This Cool Dog Father Shirt is more than a fashion statement. It is a combination of perfection and beauty. An inspired gift that all dog fathers will love.
6. Funny Dachshund Shirt Dachshund Lover Gifts Dog Dad Shirt
You can not miss this funny design of the unique shirt. Funny Dachshund Shirt is a wonderful present for a Dachshund dad which will make him laugh every time he wears it. Nothing is better than a funny and meaningful gift for someone you love. Why don't let the whole world know how much you care for your pups?
7. Labrador Retriever Tshirt Puppy Lab Dog Tee Dog Dad Shirt
The novelty combination of the American flag and Labrador Lab is so cool and perfect for any dog lover. Labrador Retriever Tshirt will show your pride and support for police and your love for Lab as well. This shirt is one of the best gift ideas to make a big surprise for someone who loves dogs.
8. Rescue Dog T-Shirt Gift For Dog Lovers Dog Dad Shirt
Life will be better with our best friends! The more dogs you rescue, the more happiness you get. If you wanna spread out love for dogs and the great spirit of dog care, grab this shirt and let the world know. Rescue Dog T-Shirt is so meaningful as a gift for a great dog's father.
9. Golden Retriever In Pocket Puppy T Shirt Dog Dad Shirt
Being a dog father is great, but being a golden father is better! Golden is so smart and energetic that will support you all the time. It is time to show your love for your big friends. Golden Retriever In Pocket Puppy T Shirt will help you to do that. These shirts are the great dog dad gifts for any special occasion.
10. Which Part Of Aroooo Husky Dog T Shirt Dog Dad Shirt
Husky is so funny, do you agree with me? Becoming a husky farther is so cool and wearing this shirt is much cooler. Which Part Of Aroooo Husky Dog T Shirt is a fantastic and unique design to show your love for husky. No doubt that this is the best gift for dog fathers.
Chose The Perfect Dog Dad Gifts For Him
Giving a dog shirt to your dog lover's father and pals will be greatly appreciated. You're reassuring them that their feelings for these cuddly creatures are genuine and unique. Giving them a dog dad shirt, in particular, is the ideal way to make the gift stand out! As a result, this post will undoubtedly assist you in selecting the ideal option!